Description
Dranetz HDPQ® Visa Plus Portable 
The Best Value in Power Quality Monitoring
Power from the Phase Feature; Power the Instrument from the Circuit Being Measured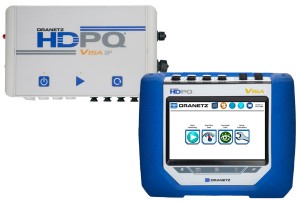 Tests 16/25Hz and 50/60Hz
Wired Ethernet Communications
Bluetooth Optional
GPS Optional
Made in the USA 
The Dranetz HDPQ® Visa Plus (Portable) power quality analyzers offer the best value in power quality, demand, and energy monitoring from Dranetz, or any other Power Quality analyzer manufacturer! No other product at this price point comes close to matching the benefits and features provided by the Dranetz HDPQ Visa family of products.
The Dranetz HDPQ Visa is a true hand-held portable instrument with a built in 7″, tablet-like touch LCD display.
The Dranetz HDPQ Visa enables users to review data and change settings remotely from virtually any smartphone, tablet and mobile device, as well as with traditional PC and MAC laptops and desktops. Just hook up the instrument, close the cabinets to the 'safe' environment, and use either the VNC interface along with our Dran-View 7 software, or our Dranetz HDPQ Apple or Android Apps via Ethernet for remote control from anywhere with connectivity to the instrument.
Dranetz HDPQ Visa Plus  Precision
• High Definition PQ & Energy Monitoring – 1000Vrms, AC/DC, 512 samples/cycle
• Eight channels, 4 voltage & 4 current
• Advanced PQ – IEC 61000-4-30 Class A & IEEE 1159 compliant
• Harmonics – IEC 61000-4-7, IEEE 519 (2014)
• Transient capabilities – V & I waveshape triggers. Well beyond standards requirements
• 100 cycle pre/post trigger buffer
• EN 50160 Ed 3
• Motor AnswerModule®
Dranetz HDPQ Visa Plus – Communications
• Ethernet, USB, Bluetooth – Optional
• VNC for full remote control from Dran-View 7 or a 3rd party App
• Apple & Android apps with real time metering and alarm Dashboard
Dranetz HDPQ Visa  Plus – Safe & Rugged
• Arc Flash Safety
• UL/cUL listed and CE approved
• Rugged enclosure with an easy to grip, shock absorbing, non-conductive boot
• Power supply cable retainer and wire management
• Drop tested to 6'
• Automatic circuit detection and feedback on proper connection of the instrument
Dranetz HDPQ Visa Plus – User Interface
• 7" WVGA color touch display
• Automatic setups – PQ, Demand and Energy
• Tablet-like GUI that is icon driven, has taskbar shortcuts, and a Dashboard
Dranetz HDPQ Visa Plus & HDPQ SP – Productivity
• Mini-Report – Screen snapshots, XML file. Easily uploaded and emailed!
• PQ & Energy Dashboard's for real time alarming
• Bigger display for more productive local analysis
• Dran-View 7 power quality analysis software
• Rescue kit – Part of Dran-View 7. Correct problems with wiring, CT orientation, time errors and more
• Post processing – Part of Dran-View 7. Compute harmonics and other parameters from the waveforms recorded by the instrument
Dranetz HDPQ Visa Plus – Measured Parameters
(4) Differential Voltage: 16 bit resolution
0-1000Vrms, AC/DC, +/- 0.1% reading +/- 0.05% FS
IEC 61000-4-30 Class A: 60-1000Vrms, ±0.1 % of Udin, range of 10% ~ 150% of Udin
Transients – 0-1414Vpk, +/- .2% of Udin
(4) Current: 512 samples/cycle, 16 bit resolution
Range (rms) probe dependent, AC/DC, +/- 0.1% reading +/- 0.05% FS
Transients – Range probe dependent
Frequency: 10 sec window
16-25Hz, 42.5-69Hz, +/- 0.01Hz
Calculated Parameters
Power/Energy – 1 Second sampling
Real Power (W) – P: meets 0.2S requirements, range probe dependent
Apparent Power (VA) – S: meets 0.2S requirements, range probe dependent
Reactive Power (var) – Q: meets 0.2S requirements, range probe dependent
Power Factor (W/VA) -"true" -1 to 0 to 1
Displacement PF -1 to 0 to 1
Demand (in W): meets 0.2S requirements, range probe dependent
Energy (in Wh): meets 0.2S requirements, range probe dependent
Distortion – 200ms, 3 sec, 10 min windows
Vthd: 0-100%, +/- 5% for V>=1% Vnom,
V Ind Harm: DC, 2-127, +/- 5% for V>=1% Vnom
Ithd: 0-100%, +/- 5% for I>=1% Inom,
I Ind Harm: DC, 2-63, +/- 5% for I>=1% Inom
Misc.
Pst – 10 minutes: 0.2-10, +/- 0.05 @ Pst=1
Plt – 2 hours: 0.2-10, +/- 0.05 @ Pst=1
Standards Compliance
Power Quality
IEC 61000-4-30 Class A: Edition 2 (2008)
IEEE 1159: 2009
Power
IEEE 1459: 2000
Harmonics
IEC 61000-4-7 Class 1: Edition 2 (2008)
IEEE 519: 2014
Voltage Flicker
IEC 61000-4-15: Edition 2 (2010)
IEEE 1453: 2011
Compliance/Testing
EN 50160: 2010
General Specifications 
Dranetz HDPQ Visa Plus
Size: (10″w x 8″h x 2.75″d), (25.4cm x 20.3cm x 7.0cm)
Weight: 4.2lbs, 2kg
Operating temperature: 0 to 50 deg C ( 32 to 122 deg F)
Storage temperature: -20 to 60 deg C (-4 to 131 deg F)
Humidity: 10-90% non condensing
AC Adapter (12V): 100-240Vac 50/60Hz
Clock accuracy and resolution
Internal: +/- 1 sec/day at 25 deg C
NTP: +/-10 msec
GPS: +/-1 msec
Battery capacity and charge time:
Dranetz HDPQ Visa: 3 hours run time on full charge, 3 hours charge time
Memory size: 4GB
Display: 7" WVGA color graphic, Icon based touch LCD, LED Backlit
Communications
Ethernet
Bluetooth (optional)
USB On the Go (OTG)
VNC remote control
Android & Apple Apps
Ease of Use Features
Automatic Setups – Start monitoring in seconds!
Pre-programmed monitoring modes – Pre-configured setups for various applications
Dashboards – Power Quality, Demand & Energy – Immediately know when events have been recorded
Simultaneous Power Quality, Demand & Energy monitoring
Mini-Report – Take screen snapshots that can be uploaded to your computer and included in reports, attached to emails, etc.
Power the instrument from the circuit being measured, or another source (SP Only)